2018 Jeep Renegade Review For Palos Heights, IL
---
---
---
The 2018 Jeep Renegade – Enjoy the off-roading experience
The 2018 Jeep Renegade is fun, sporty, and adventurous. It's got spunk and style and you can customize it to match your personality. If you wish to enjoy the off-roading experience while driving the smallest SUV which offers the best possible manual transmission and variety of other capabilities then look no further than 2018 Jeep Renegade.
Because of its unique size and elegant look, working mums like it the most. Now one may ask why residents of Palos Heights, IL would like to buy it. We can tell that it is the choice of those who love to have a jeep with impressive handling, powerful motor, comfy interior, real-time off-roadig power, remarkable roofing design, sleek styling and solid safety system. On the top of that ample cargo space allows the working mums keep lots of stuff stored while they are on the move. Come pick out your new Renegade at Mancari's CDJR in Oak Lawn.
---
Exterior
The
new 2018 Jeep Renegade
is made for adventure. It has unique, rugged styling and lots of options to create your own look.
Available fog lamps
Wraparound black roof for a cool look is an option
My Sky removable panel sunroof is an option
4 different choices of wheels
Trailhawk package available
Available Commandview dual pane panoramic sunroof
Customizable decals from the Jeep graphics studio for you to create your own look
Deep tinted glass option for privacy
See the beauty and options available in the 2018 Jeep Renegade at Mancari's in Oak Lawn.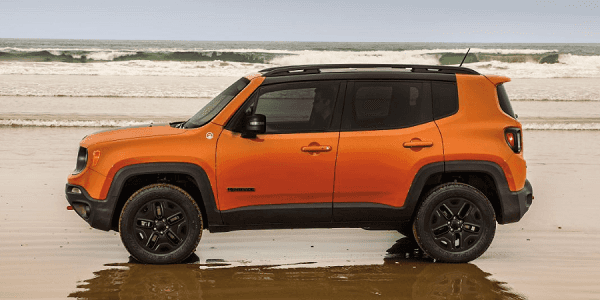 New Renegade Inventory
---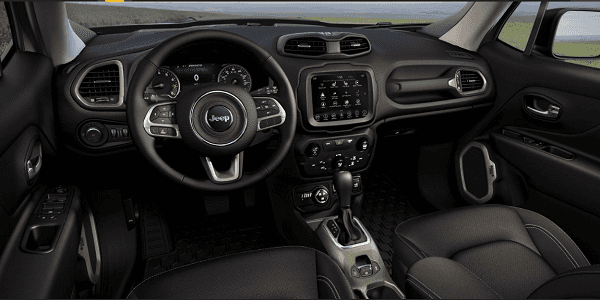 Apply For Financing
Interior
Although indeed rugged on the outside, the
2018 Renegade
does not compromise on comfort or convenience inside.
Available heated front seats
Redesigned center console to keep your phone and tech within reach
Adjustable rear cargo floor
The front passenger seat folds down for more cargo room
Available perforated leather trimmed seats
Eight way power adjustable driver seat with lumbar support is an option
Passenger side cargo net
Flat folding rear seats in your choice of 60 / 40, 40 / 20 / 40
Bring your gear and check out how it fits into the 2018 Jeep Renegade at Mancari's!
---
Technology
Options abound for technology in the
2018 Jeep Renegade
. You can geek out, or keep it simple but convenient – your choice!
7″ full color driver information digital cluster display with controls on the steering wheel
Available Nine speaker Beatsaudio sound system
Available navigation
Available Selec terrain traction management
UConnect with either 5″ / 7″ / 8.4″ touchscreen
Rear park assist is an option
Come to Mancari's in Oak Lawn and check out the tech in the new 2018 Jeep Renegade.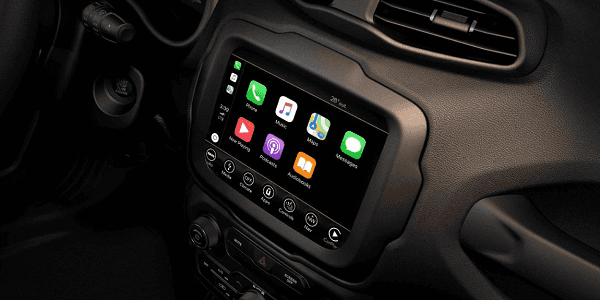 Value Your Trade-In
---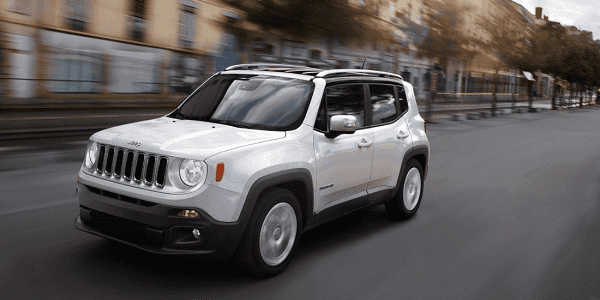 New Jeep Specials
Driving Performance
The
Jeep Renegade
does not disappoint in performance. It has two different engine options with up to 180 HP. This 2018 model can be equipped to take you anywhere you want to go.
Trailhawk has electrical and body sealing for water crossing
Stiff body structure
4×4 Trailhawk Active Drive Low 4×4 has 20:1 crawl ratio
Precision steering and a 35.3 turning diameter in Trailhawk
Nine speed automatic transmission
Go for a test drive to check the performance of your new 2018 Jeep Renegade in Oak Lawn at Mancari's.
---
Safety
The
2018 Jeep Renegade
has over 70 safety and security features. When you are out for an adrenaline fix, the last thing you want is to have your vehicle safety concern you. You want to get where you want to go, have the adventure, and get back home safely in your
New Renegade
.
Lane Sense Lane Departure warning with Lane Assist available
Advanced brake assist
Available park sense rear park assist system
Seven standard airbags
Available full speed front collision warning with active braking
Blind Spot monitoring system available
Rear back up camera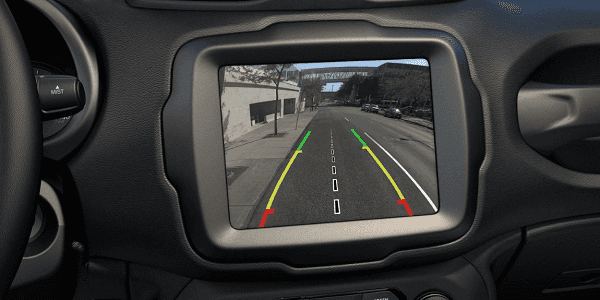 Payment Calculator
Why Buy From a New Jeep Renegade from Mancari's serving Palos Heights, IL?
At Mancari's Chrysler Dodge Jeep Ram, our team of service technicians, sales experts and finance professionals have a single aim which is the satisfaction of our customers.
Let us help you pick out the style, tech, and features to make your new ride thrill you. We take pride in serving our community and that is the reason we aim to make every community member own his or her dream vehicle. If you have decided to get hands on 2018 Jeep Renegade then contact us to discuss your payment options.
---
27

Matching Vehicles

Found

VIN: ZACCJABB1JPH67303

Stock #: 3082J-8

Explore Payment Options

Compare and Save Real-Time Bank Offers
Customize Your Monthly Payment
Get Instant Trade-In Estimate

* GREAT DEAL AT $18,995 * * 2018 ** Jeep * * Renegade * * Latitude * With top features including the push button start, backup camera, Bluetooth, b ...

[ more ]

Explore Payment Options

Compare and Save Real-Time Bank Offers
Customize Your Monthly Payment
Get Instant Trade-In Estimate

* GREAT DEAL AT $18,995 * * 2018 ** Jeep * * Renegade * * Latitude * With top features including the push button start, backup camera, Bluetooth, braking assist, dual climate control, hill start assist, stability control, traction control, anti-lock brakes, and dual airbags, this 2018 Jeep Renegade Latitude is a great decision. For a good-looking vehicle from the inside out, this car features a gorgeous alpine white exterior along with a black interior. This one scored a crash test rating of 4 out of 5 stars. Want to learn more? Call today for more information. Please Keep in mind... Nationwide shipping available, Just ask! We accept all offers and approve most, Mancari's of Oak Lawn guarantees the best prices in the Midwest! Appointments are highly recommended, Call us today @ 708-423-1700. Please keep in mind our inventory changes daily. Tax, title, license and doc fees extra. Price includes: $1,500 - 2018 Retail Bonus Cash MWCJA1. Exp. 02/28/2019, $1,750 - 2018 Retail Consumer Cash 51CJ1. Exp. 02/28/2019

VIN: ZACCJABB1JPJ70892

Stock #: 3241J-8

Explore Payment Options

Compare and Save Real-Time Bank Offers
Customize Your Monthly Payment
Get Instant Trade-In Estimate

* GREAT DEAL AT $20,478 * * 2018 ** Jeep * * Renegade * * Latitude * With top features including the push button start, backup camera, Bluetooth, b ...

[ more ]

Explore Payment Options

Compare and Save Real-Time Bank Offers
Customize Your Monthly Payment
Get Instant Trade-In Estimate

* GREAT DEAL AT $20,478 * * 2018 ** Jeep * * Renegade * * Latitude * With top features including the push button start, backup camera, Bluetooth, braking assist, dual climate control, hill start assist, stability control, traction control, anti-lock brakes, and dual airbags, this 2018 Jeep Renegade Latitude is a great decision. For a good-looking vehicle from the inside out, this car features a sharp glacier metallic exterior along with a black interior. With an unbeatable 4-star crash test rating, this SUV puts safety first. Don't sit on this decision for long...schedule your test drive today! Please Keep in mind... Nationwide shipping available, Just ask! We accept all offers and approve most, Mancari's of Oak Lawn guarantees the best prices in the Midwest! Appointments are highly recommended, Call us today @ 708-423-1700. Please keep in mind our inventory changes daily. Tax, title, license and doc fees extra. Price includes: $1,500 - 2018 Retail Bonus Cash MWCJA1. Exp. 02/28/2019, $1,750 - 2018 Retail Consumer Cash 51CJ1. Exp. 02/28/2019

VIN: ZACCJABB5JPJ69003

Stock #: 3235J-8

Explore Payment Options

Compare and Save Real-Time Bank Offers
Customize Your Monthly Payment
Get Instant Trade-In Estimate

* GREAT DEAL AT $20,478 * * 2018 ** Jeep * * Renegade * * Latitude * This 2018 Jeep Renegade Latitude is a great option for folks looking for top feat ...

[ more ]

Explore Payment Options

Compare and Save Real-Time Bank Offers
Customize Your Monthly Payment
Get Instant Trade-In Estimate

* GREAT DEAL AT $20,478 * * 2018 ** Jeep * * Renegade * * Latitude * This 2018 Jeep Renegade Latitude is a great option for folks looking for top features like a push button start, backup camera, Bluetooth, braking assist, dual climate control, hill start assist, stability control, traction control, anti-lock brakes, and dual airbags. A sleek anvil exterior and a black interior are just what you need in your next ride. This one scored a crash test rating of 4 out of 5 stars. Make your move before it's too late schedule a test drive today! Please Keep in mind... Nationwide shipping available, Just ask! We accept all offers and approve most, Mancari's of Oak Lawn guarantees the best prices in the Midwest! Appointments are highly recommended, Call us today @ 708-423-1700. Please keep in mind our inventory changes daily. Tax, title, license and doc fees extra. Price includes: $1,500 - 2018 Retail Bonus Cash MWCJA1. Exp. 02/28/2019, $1,750 - 2018 Retail Consumer Cash 51CJ1. Exp. 02/28/2019

VIN: ZACCJABB2JPJ69038

Stock #: 3240J-8

Explore Payment Options

Compare and Save Real-Time Bank Offers
Customize Your Monthly Payment
Get Instant Trade-In Estimate

* GREAT DEAL AT $20,478 * * 2018 ** Jeep * * Renegade * * Latitude * It doesn't get much better than this 2018 Jeep Renegade Latitude, which boasts a ...

[ more ]

Explore Payment Options

Compare and Save Real-Time Bank Offers
Customize Your Monthly Payment
Get Instant Trade-In Estimate

* GREAT DEAL AT $20,478 * * 2018 ** Jeep * * Renegade * * Latitude * It doesn't get much better than this 2018 Jeep Renegade Latitude, which boasts a push button start, backup camera, Bluetooth, braking assist, dual climate control, hill start assist, stability control, traction control, anti-lock brakes, and dual airbags. It has a ravishing anvil exterior and a black interior. This one's a keeper. It has a crash test safety rating of 4 out of 5 stars. Interested? Call today and schedule a test drive! Please Keep in mind... Nationwide shipping available, Just ask! We accept all offers and approve most, Mancari's of Oak Lawn guarantees the best prices in the Midwest! Appointments are highly recommended, Call us today @ 708-423-1700. Please keep in mind our inventory changes daily. Tax, title, license and doc fees extra. Price includes: $1,500 - 2018 Retail Bonus Cash MWCJA1. Exp. 02/28/2019, $1,750 - 2018 Retail Consumer Cash 51CJ1. Exp. 02/28/2019

VIN: ZACCJABB5JPJ69065

Stock #: 3239J-8

Explore Payment Options

Compare and Save Real-Time Bank Offers
Customize Your Monthly Payment
Get Instant Trade-In Estimate

* GREAT DEAL AT $20,478 * * 2018 ** Jeep * * Renegade * * Latitude * This reliable 2018 Jeep Renegade Latitude comes with a variety of features, incl ...

[ more ]

Explore Payment Options

Compare and Save Real-Time Bank Offers
Customize Your Monthly Payment
Get Instant Trade-In Estimate

* GREAT DEAL AT $20,478 * * 2018 ** Jeep * * Renegade * * Latitude * This reliable 2018 Jeep Renegade Latitude comes with a variety of features, including push button start, backup camera, Bluetooth, braking assist, dual climate control, hill start assist, stability control, traction control, anti-lock brakes, and dual airbags. It has a sharp glacier metallic exterior and a black interior. With a 4-star crash test rating, this is one of the safest vehicles you can buy. This is the vehicle for you! Give us a call today and don't let it slip away! Please Keep in mind... Nationwide shipping available, Just ask! We accept all offers and approve most, Mancari's of Oak Lawn guarantees the best prices in the Midwest! Appointments are highly recommended, Call us today @ 708-423-1700. Please keep in mind our inventory changes daily. Tax, title, license and doc fees extra. Price includes: $1,500 - 2018 Retail Bonus Cash MWCJA1. Exp. 02/28/2019, $1,750 - 2018 Retail Consumer Cash 51CJ1. Exp. 02/28/2019

VIN: ZACCJABB4JPJ68358

Stock #: 3244J-8

Explore Payment Options

Compare and Save Real-Time Bank Offers
Customize Your Monthly Payment
Get Instant Trade-In Estimate

* GREAT DEAL AT $20,478 * * 2018 ** Jeep * * Renegade * * Latitude * People everywhere will love the way this 2018 Jeep Renegade Latitude drives with ...

[ more ]

Explore Payment Options

Compare and Save Real-Time Bank Offers
Customize Your Monthly Payment
Get Instant Trade-In Estimate

* GREAT DEAL AT $20,478 * * 2018 ** Jeep * * Renegade * * Latitude * People everywhere will love the way this 2018 Jeep Renegade Latitude drives with features like a push button start, backup camera, Bluetooth, braking assist, dual climate control, hill start assist, stability control, traction control, anti-lock brakes, and dual airbags. A charming crystal metallic exterior and a black interior are just what you need in your next ride. This one's a keeper. It has a crash test safety rating of 4 out of 5 stars. Call and schedule your test drive today! Please Keep in mind... Nationwide shipping available, Just ask! We accept all offers and approve most, Mancari's of Oak Lawn guarantees the best prices in the Midwest! Appointments are highly recommended, Call us today @ 708-423-1700. Please keep in mind our inventory changes daily. Tax, title, license and doc fees extra. Price includes: $1,500 - 2018 Retail Bonus Cash MWCJA1. Exp. 02/28/2019, $1,750 - 2018 Retail Consumer Cash 51CJ1. Exp. 02/28/2019

VIN: ZACCJABB9JPJ26154

Stock #: 3223J-8

Explore Payment Options

Compare and Save Real-Time Bank Offers
Customize Your Monthly Payment
Get Instant Trade-In Estimate

* GREAT DEAL AT $21,141 * * 2018 ** Jeep * * Renegade * * Latitude * This reliable 2018 Jeep Renegade Latitude comes with a variety of features, incl ...

[ more ]

Explore Payment Options

Compare and Save Real-Time Bank Offers
Customize Your Monthly Payment
Get Instant Trade-In Estimate

* GREAT DEAL AT $21,141 * * 2018 ** Jeep * * Renegade * * Latitude * This reliable 2018 Jeep Renegade Latitude comes with a variety of features, including push button start, backup camera, Bluetooth, braking assist, dual climate control, hill start assist, stability control, traction control, anti-lock brakes, and dual airbags. It has a sharp hypergreen clearcoat exterior and a black interior. Want a SUV you can rely on? This one has a crash test rating of 4 out of 5 stars! Come see us today and see this one in person! Please Keep in mind... Nationwide shipping available, Just ask! We accept all offers and approve most, Mancari's of Oak Lawn guarantees the best prices in the Midwest! Appointments are highly recommended, Call us today @ 708-423-1700. Please keep in mind our inventory changes daily. Tax, title, license and doc fees extra. Price includes: $1,500 - 2018 Retail Bonus Cash MWCJA1. Exp. 02/28/2019, $1,750 - 2018 Retail Consumer Cash 51CJ1. Exp. 02/28/2019

VIN: ZACCJABB7JPJ29604

Stock #: 3231J-8

Explore Payment Options

Compare and Save Real-Time Bank Offers
Customize Your Monthly Payment
Get Instant Trade-In Estimate

* GREAT DEAL AT $21,141 * * 2018 ** Jeep * * Renegade * * Latitude * If you're shopping for a quality vehicle with perks such as a push button start, ...

[ more ]

Explore Payment Options

Compare and Save Real-Time Bank Offers
Customize Your Monthly Payment
Get Instant Trade-In Estimate

* GREAT DEAL AT $21,141 * * 2018 ** Jeep * * Renegade * * Latitude * If you're shopping for a quality vehicle with perks such as a push button start, backup camera, Bluetooth, braking assist, dual climate control, hill start assist, stability control, traction control, anti-lock brakes, and dual airbags, this 2018 Jeep Renegade Latitude may be the car for you. It has a charming colorado red exterior and a black interior. Stay safe with this SUV's 4 out of 5 star crash test rating. Interested? Call today and take it for a spin! Please Keep in mind... Nationwide shipping available, Just ask! We accept all offers and approve most, Mancari's of Oak Lawn guarantees the best prices in the Midwest! Appointments are highly recommended, Call us today @ 708-423-1700. Please keep in mind our inventory changes daily. Tax, title, license and doc fees extra. Price includes: $1,500 - 2018 Retail Bonus Cash MWCJA1. Exp. 02/28/2019, $1,750 - 2018 Retail Consumer Cash 51CJ1. Exp. 02/28/2019

VIN: ZACCJBAB8JPH72652

Stock #: 3093J-8

Explore Payment Options

Compare and Save Real-Time Bank Offers
Customize Your Monthly Payment
Get Instant Trade-In Estimate

* GREAT DEAL AT $23,245 * * 2018 ** Jeep * * Renegade * * Upland * This 2018 Jeep Renegade Upland features a push button start, remote starter, back ...

[ more ]

Explore Payment Options

Compare and Save Real-Time Bank Offers
Customize Your Monthly Payment
Get Instant Trade-In Estimate

* GREAT DEAL AT $23,245 * * 2018 ** Jeep * * Renegade * * Upland * This 2018 Jeep Renegade Upland features a push button start, remote starter, backup camera, Bluetooth, braking assist, hill start assist, stability control, traction control, anti-lock brakes, and dual airbags and may just be the car you've been waiting for. For a good-looking vehicle from the inside out, this car features a ravishing hypergreen clearcoat exterior along with a black interior. This SUV 4X4 scored a crash test safety rating of 4 out of 5 stars. View this beauty and our entire inventory today! Call for more details. Please Keep in mind... Nationwide shipping available, Just ask! We accept all offers and approve most, Mancari's of Oak Lawn guarantees the best prices in the Midwest! Appointments are highly recommended, Call us today @ 708-423-1700. Please keep in mind our inventory changes daily. Tax, title, license and doc fees extra. Price includes: $1,000 - 2018 Retail Bonus Cash MWCJA1. Exp. 02/28/2019, $1,750 - 2018 Retail Consumer Cash 51CJ1. Exp. 02/28/2019

VIN: ZACCJBAB4JPH72079

Stock #: 3105J-8

Explore Payment Options

Compare and Save Real-Time Bank Offers
Customize Your Monthly Payment
Get Instant Trade-In Estimate

* GREAT DEAL AT $23,245 * * 2018 ** Jeep * * Renegade * * Upland * If you're shopping for a quality vehicle with perks such as a push button start, r ...

[ more ]

Explore Payment Options

Compare and Save Real-Time Bank Offers
Customize Your Monthly Payment
Get Instant Trade-In Estimate

* GREAT DEAL AT $23,245 * * 2018 ** Jeep * * Renegade * * Upland * If you're shopping for a quality vehicle with perks such as a push button start, remote starter, backup camera, Bluetooth, braking assist, hill start assist, stability control, traction control, anti-lock brakes, and dual airbags, this 2018 Jeep Renegade Upland may be the car for you. It has a gorgeous solar yellow exterior and a black interior. Be sure of your safety with a crash test rating of 4 out of 5 stars. Call or visit to talk with one of our vehicle specialists today! Please Keep in mind... Nationwide shipping available, Just ask! We accept all offers and approve most, Mancari's of Oak Lawn guarantees the best prices in the Midwest! Appointments are highly recommended, Call us today @ 708-423-1700. Please keep in mind our inventory changes daily. Tax, title, license and doc fees extra. Price includes: $1,000 - 2018 Retail Bonus Cash MWCJA1. Exp. 02/28/2019, $1,750 - 2018 Retail Consumer Cash 51CJ1. Exp. 02/28/2019

VIN: ZACCJABB5JPG93545

Stock #: 3041J-8

Explore Payment Options

Compare and Save Real-Time Bank Offers
Customize Your Monthly Payment
Get Instant Trade-In Estimate

* GREAT DEAL AT $23,269 * * 2018 ** Jeep * * Renegade * * Latitude * This 2018 Jeep Renegade Latitude is complete with top-features such as the push b ...

[ more ]

Explore Payment Options

Compare and Save Real-Time Bank Offers
Customize Your Monthly Payment
Get Instant Trade-In Estimate

* GREAT DEAL AT $23,269 * * 2018 ** Jeep * * Renegade * * Latitude * This 2018 Jeep Renegade Latitude is complete with top-features such as the push button start, backup camera, Bluetooth, braking assist, dual climate control, hill start assist, stability control, traction control, anti-lock brakes, and dual airbags. It has a dazzling alpine white exterior and a black interior. With an unbeatable 4-star crash test rating, this SUV puts safety first. Call today to schedule your test drive! Please Keep in mind... Nationwide shipping available, Just ask! We accept all offers and approve most, Mancari's of Oak Lawn guarantees the best prices in the Midwest! Appointments are highly recommended, Call us today @ 708-423-1700. Please keep in mind our inventory changes daily. Tax, title, license and doc fees extra. Price includes: $1,500 - 2018 Retail Bonus Cash MWCJA1. Exp. 02/28/2019, $1,750 - 2018 Retail Consumer Cash 51CJ1. Exp. 02/28/2019

VIN: ZACCJBBB2JPJ13316

Stock #: 3218J-8

Explore Payment Options

Compare and Save Real-Time Bank Offers
Customize Your Monthly Payment
Get Instant Trade-In Estimate

* GREAT DEAL AT $23,812 * * 2018 ** Jeep * * Renegade * * Altitude * Featuring a push button start, backup camera, Bluetooth, braking assist, dual ...

[ more ]

Explore Payment Options

Compare and Save Real-Time Bank Offers
Customize Your Monthly Payment
Get Instant Trade-In Estimate

* GREAT DEAL AT $23,812 * * 2018 ** Jeep * * Renegade * * Altitude * Featuring a push button start, backup camera, Bluetooth, braking assist, dual climate control, hill start assist, stability control, traction control, anti-lock brakes, and dual airbags, be sure to take a look at this 2018 Jeep Renegade Altitude before it's gone. It has a suave glacier metallic exterior and a black interior. Looking to buy a safer SUV 4X4? Look no further! This one passed the crash test with 4 out of 5 stars. Call today to test it out! Please Keep in mind... Nationwide shipping available, Just ask! We accept all offers and approve most, Mancari's of Oak Lawn guarantees the best prices in the Midwest! Appointments are highly recommended, Call us today @ 708-423-1700. Please keep in mind our inventory changes daily. Tax, title, license and doc fees extra. Price includes: $1,500 - 2018 Retail Bonus Cash MWCJA1. Exp. 02/28/2019, $1,750 - 2018 Retail Consumer Cash 51CJ1. Exp. 02/28/2019

VIN: ZACCJBBB9JPJ12468

Stock #: 3206J-8

Explore Payment Options

Compare and Save Real-Time Bank Offers
Customize Your Monthly Payment
Get Instant Trade-In Estimate

* GREAT DEAL AT $23,812 * * 2018 ** Jeep * * Renegade * * Altitude * You'll love getting behind the wheel of this 2018 Jeep Renegade Altitude, which ...

[ more ]

Explore Payment Options

Compare and Save Real-Time Bank Offers
Customize Your Monthly Payment
Get Instant Trade-In Estimate

* GREAT DEAL AT $23,812 * * 2018 ** Jeep * * Renegade * * Altitude * You'll love getting behind the wheel of this 2018 Jeep Renegade Altitude, which is complete with amenities such as a push button start, backup camera, Bluetooth, braking assist, dual climate control, hill start assist, stability control, traction control, anti-lock brakes, and dual airbags. A sharp glacier metallic exterior and a black interior are just what you need in your next ride. With a crash test rating of 4 out of 5 stars, everyone can feel secure. Don't wait until it is too late! Call today to schedule an appointment. Please Keep in mind... Nationwide shipping available, Just ask! We accept all offers and approve most, Mancari's of Oak Lawn guarantees the best prices in the Midwest! Appointments are highly recommended, Call us today @ 708-423-1700. Please keep in mind our inventory changes daily. Tax, title, license and doc fees extra. Price includes: $1,500 - 2018 Retail Bonus Cash MWCJA1. Exp. 02/28/2019, $1,750 - 2018 Retail Consumer Cash 51CJ1. Exp. 02/28/2019

VIN: ZACCJBBB5JPJ55429

Stock #: 3233J-8

Explore Payment Options

Compare and Save Real-Time Bank Offers
Customize Your Monthly Payment
Get Instant Trade-In Estimate

* GREAT DEAL AT $25,489 * * 2018 ** Jeep * * Renegade * * Altitude * You'll love the look and feel of this 2018 Jeep Renegade Altitude, which feature ...

[ more ]

Explore Payment Options

Compare and Save Real-Time Bank Offers
Customize Your Monthly Payment
Get Instant Trade-In Estimate

* GREAT DEAL AT $25,489 * * 2018 ** Jeep * * Renegade * * Altitude * You'll love the look and feel of this 2018 Jeep Renegade Altitude, which features a push button start, backup camera, Bluetooth, braking assist, dual climate control, hill start assist, stability control, traction control, anti-lock brakes, and dual airbags. A charming solar yellow exterior and a black interior are just what you need in your next ride. This SUV 4X4 scored a crash test safety rating of 4 out of 5 stars. Good cars sell fast! Give us a call and schedule an appointment today! Please Keep in mind... Nationwide shipping available, Just ask! We accept all offers and approve most, Mancari's of Oak Lawn guarantees the best prices in the Midwest! Appointments are highly recommended, Call us today @ 708-423-1700. Please keep in mind our inventory changes daily. Tax, title, license and doc fees extra. Price includes: $1,500 - 2018 Retail Bonus Cash MWCJA1. Exp. 02/28/2019, $1,750 - 2018 Retail Consumer Cash 51CJ1. Exp. 02/28/2019

VIN: ZACCJBBB4JPJ52358

Stock #: 3234J-8

Explore Payment Options

Compare and Save Real-Time Bank Offers
Customize Your Monthly Payment
Get Instant Trade-In Estimate

* GREAT DEAL AT $25,489 * * 2018 ** Jeep * * Renegade * * Altitude * When you're ready to upgrade your ride, opt for this 2018 Jeep Renegade Altitude ...

[ more ]

Explore Payment Options

Compare and Save Real-Time Bank Offers
Customize Your Monthly Payment
Get Instant Trade-In Estimate

* GREAT DEAL AT $25,489 * * 2018 ** Jeep * * Renegade * * Altitude * When you're ready to upgrade your ride, opt for this 2018 Jeep Renegade Altitude, which includes features such as push button start, backup camera, Bluetooth, braking assist, dual climate control, hill start assist, stability control, traction control, anti-lock brakes, and dual airbags. A ravishing black exterior and a black interior are just what you need in your next ride. This SUV 4X4 scored a crash test safety rating of 4 out of 5 stars. View this beauty and our entire inventory today! Call for more details. Please Keep in mind... Nationwide shipping available, Just ask! We accept all offers and approve most, Mancari's of Oak Lawn guarantees the best prices in the Midwest! Appointments are highly recommended, Call us today @ 708-423-1700. Please keep in mind our inventory changes daily. Tax, title, license and doc fees extra. Price includes: $1,500 - 2018 Retail Bonus Cash MWCJA1. Exp. 02/28/2019, $1,750 - 2018 Retail Consumer Cash 51CJ1. Exp. 02/28/2019

VIN: ZACCJBBB8JPJ11800

Stock #: 3207J-8

Explore Payment Options

Compare and Save Real-Time Bank Offers
Customize Your Monthly Payment
Get Instant Trade-In Estimate

* GREAT DEAL AT $27,062 * * 2018 ** Jeep * * Renegade * * Latitude * This 2018 Jeep Renegade Latitude is complete with top-features such as the push b ...

[ more ]