2019 Jeep Grand Cherokee Review for Evergreen Park, IL
---
---
Why is the 2019 Jeep Grand Cherokee Perfect for the People of Evergreen Park, IL?
The 2019 Jeep Grand Cherokee is one of the hottest SUV's to hit the market this year and one of the best value for money. If the residents of Evergreen Park, IL, are after an SUV that is stylish and has the impressive driving performance they need not look any further. Under the hood, it boasts an impressive 3.6L V6 gasoline engine and an 8-speed automatic transmission. If you and your family are looking both for performance and fuel efficiency the 2019 Jeep Grand Cherokee will get 25 miles to the gallon on the highway and 18 in the city.
There is a range of additional options you can add on to the base model such as a rear DVD entertainment system to keep the kids quiet during long journeys as well as upgrading the audio system to a 9 amp speaker setup complimented with a centralized subwoofer.
---
Driving Performance
The 2019 Jeep Grand Cherokee offers an impressive performance with enough room for 5 people, you can drive your whole family around Evergreen Park, IL. It has a 3.6L 6 cylinder engine producing 295 horsepower. This comes with an 8-speed automatic transmission. As mentioned the fuel efficiency is reasonable with you being able to get 18 if you're driving through Evergreen Park, IL, and 25 if you're further afield on the highway. The car comes with rear wheel drive and both front and rear suspension. When it comes to being in control when you're driving you'll be happy to know that it comes as standard with traction and stability control.
8 speed automatic transmission
18 MPG in the City
Rear wheel drive
Reck-Pinion steering
Traction control
ABS brakes

6L V6 24V VVT gasoline engine
6 cylinders
25 MPG on the Highway
295 horsepower
Front and rear suspension
Stability control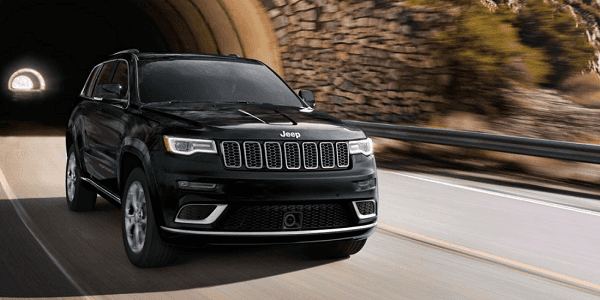 New Jeep Grand Cherokee Inventory
---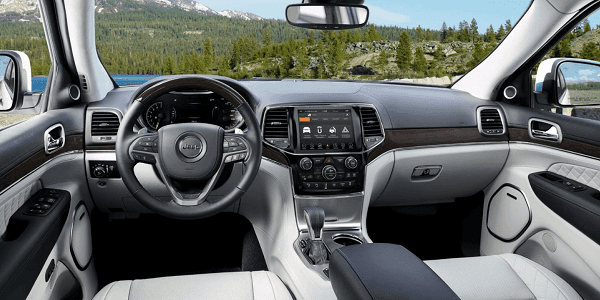 Apply For Financing
Interior
The inside of the 2019 Jeep Grand Cherokee has a sense of style and luxury with all the seats being covered in leather upholstery and a choice of black or beige interior. If you want to recline the back seats you'll find it provides ample cargo room if you're moving stuff around Evergreen Park, IL, with 63.9 cubes of space being made vacant. Both the driver and passenger have knee, front and side airbags in case of a collision. You'll also get cruise and climate control with options to change and alter these features on the steering wheel as well as the wheel itself being heated to help during the cold winter months.
Cargo volume to seat 1 is 68 foot cubed
Driver and passenger airbags
Comes with UConnect 7 inch display as standard
Cruise Control
Heated steering wheel

Room for 5 passengers
Cargo volume to seat 2 and 3 is 36.3 foot cubed
Choice of black or light frost beige color seats
Leather upholstery
Climate control
---
Technology
You'll get a range of technology as standard with the 2019 Jeep Grand Cherokee including a 6 speaker audio system, with an option to upgrade this to a 9 speaker system with a subwoofer to compliment for an extra cost. It comes with a 7" UConnect tablet in the front complete with satellite navigation. Another optional extra for the families of Evergreen Park, IL, is a rear DVD entertainment center to keep the kids occupied during the long cross-state journeys. You'll also get rear parking sensors and a rearview camera which can assist you when parallel parking into a tight spot. If you need to charge your phone up there is a 12V power outlet with USB output in the center console between the driver and passenger.
Rear parking sensors
Satellite radio system
Heated mirrors
USB connection

9 amplified speakers with subwoofer (optional)
6 speaker audio system
Rear DVD entertainment center (optional)
7 inch UConnect tablet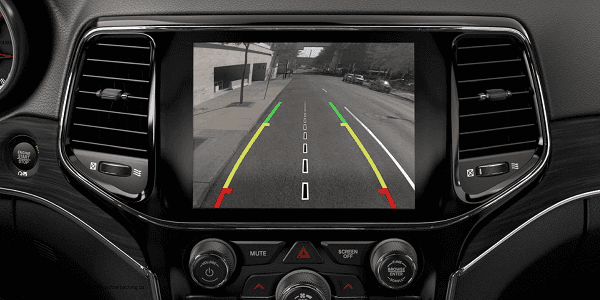 Value Your Trade-In
---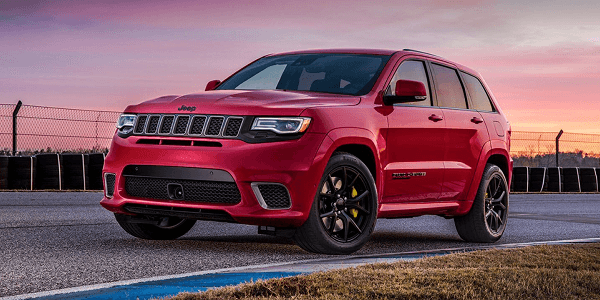 New Jeep Specials
Exterior
The outside of the 2019 Jeep Grand Cherokee has both turn signaling and heated wing mirrors perfect for the winter months. A power sunroof in-between the front and rear seats as well as all-season tires meaning it can handle any terrain. There is also a spare tire mounted on the inside of the vehicle.
Rear parking sensor
Power sunroof
Rear view camera
Heated mirrors
All-season tires
Turn signaling mirrors
Inside mounted spare tire
---
Why Buy From a New Jeep Grand Cherokee from Mancari's near Evergreen Park, IL?
Here at Mancari's CDJR we believe we are the number one choice for the people of Evergreen Park, IL, as not only do we provide the best prices to customers on a wide range of the hottest vehicles but we also have a team of experienced staff on hand to answer any questions you might have about the purchase process or the vehicle. When you've driven away our help doesn't stop there with us offering a range of warranties as standard with your vehicle in case of any unfortunate event, and if anything does happen just pop into our service center and our trained mechanics can take a look and resolve the issue for you.
---
107

Matching Vehicles

Found

VIN: 1C4RJEAG1KC650115

Stock #: 55194J-9

Explore Payment Options

Compare and Save Real-Time Bank Offers
Customize Your Monthly Payment
Get Instant Trade-In Estimate

* 6 Cylinder engine * * GREAT DEAL AT $28,995 * * Check out this 2019 Jeep Grand Cherokee Laredo * * 2019 ** Jeep * * Grand Cherokee * This Bright Whi ...

[ more ]

Explore Payment Options

Compare and Save Real-Time Bank Offers
Customize Your Monthly Payment
Get Instant Trade-In Estimate

* 6 Cylinder engine * * GREAT DEAL AT $28,995 * * Check out this 2019 Jeep Grand Cherokee Laredo * * 2019 ** Jeep * * Grand Cherokee * This Bright White Clearcoat 2019 Jeep Grand Cherokee Laredo might be just the SUV for you. It has a 6 Cylinder engine. For a good-looking vehicle from the inside out, this car features a sharp bright white clearcoat exterior along with a black interior. This is the vehicle you have been waiting for! Call now to schedule a test drive! Please Keep in mind... Nationwide shipping available, Just ask! We accept all offers and approve most, Mancari's of Oak Lawn guarantees the best prices in the Midwest! Appointments are highly recommended, Call us today @ 708-423-1700. Please keep in mind our inventory changes daily. Tax, title, license and doc fees extra. Price includes: $3,000 - 2019 Retail Consumer Cash **CK1 (excl GL-WE). Exp. 02/28/2019

VIN: 1C4RJEAG3KC650116

Stock #: 55193J-9

Explore Payment Options

Compare and Save Real-Time Bank Offers
Customize Your Monthly Payment
Get Instant Trade-In Estimate

* 6 Cylinder engine * * GREAT DEAL AT $29,109 * * Check out this 2019 Jeep Grand Cherokee Laredo * * 2019 ** Jeep * * Grand Cherokee * This Brown Meta ...

[ more ]

Explore Payment Options

Compare and Save Real-Time Bank Offers
Customize Your Monthly Payment
Get Instant Trade-In Estimate

* 6 Cylinder engine * * GREAT DEAL AT $29,109 * * Check out this 2019 Jeep Grand Cherokee Laredo * * 2019 ** Jeep * * Grand Cherokee * This Brown Metallic 2019 Jeep Grand Cherokee Laredo might be just the SUV for you. It comes with a 6 Cylinder engine. A beautiful brown metallic exterior and a black interior are just what you need in your next ride. Don't regret waiting on this one! Call today to schedule your test drive. Please Keep in mind... Nationwide shipping available, Just ask! We accept all offers and approve most, Mancari's of Oak Lawn guarantees the best prices in the Midwest! Appointments are highly recommended, Call us today @ 708-423-1700. Please keep in mind our inventory changes daily. Tax, title, license and doc fees extra. Price includes: $3,000 - 2019 Retail Consumer Cash **CK1 (excl GL-WE). Exp. 02/28/2019

VIN: 1C4RJFAG7KC609509

Stock #: 55165J-9

Explore Payment Options

Compare and Save Real-Time Bank Offers
Customize Your Monthly Payment
Get Instant Trade-In Estimate

* 6 Cylinder engine * * GREAT DEAL AT $32,637 * * Check out this 2019 Jeep Grand Cherokee Laredo * * 2019 ** Jeep * * Grand Cherokee * This Bright Whi ...

[ more ]

Explore Payment Options

Compare and Save Real-Time Bank Offers
Customize Your Monthly Payment
Get Instant Trade-In Estimate

* 6 Cylinder engine * * GREAT DEAL AT $32,637 * * Check out this 2019 Jeep Grand Cherokee Laredo * * 2019 ** Jeep * * Grand Cherokee * This Bright White Clearcoat 2019 Jeep Grand Cherokee Laredo might be just the SUV 4X4 for you. It has a 6 Cylinder engine. A timeless bright white clearcoat exterior and a black interior are just what you need in your next ride. Call today to schedule your test drive! Please Keep in mind... Nationwide shipping available, Just ask! We accept all offers and approve most, Mancari's of Oak Lawn guarantees the best prices in the Midwest! Appointments are highly recommended, Call us today @ 708-423-1700. Please keep in mind our inventory changes daily. Tax, title, license and doc fees extra. Price includes: $3,000 - 2019 Retail Consumer Cash **CK1 (excl GL-WE). Exp. 02/28/2019

VIN: 1C4RJFAGXKC594066

Stock #: 55048J-9

Explore Payment Options

Compare and Save Real-Time Bank Offers
Customize Your Monthly Payment
Get Instant Trade-In Estimate

* 6 Cylinder engine * * GREAT DEAL AT $33,855 * * Check out this 2019 Jeep Grand Cherokee Upland * * 2019 ** Jeep * * Grand Cherokee * This Bright Whi ...

[ more ]

Explore Payment Options

Compare and Save Real-Time Bank Offers
Customize Your Monthly Payment
Get Instant Trade-In Estimate

* 6 Cylinder engine * * GREAT DEAL AT $33,855 * * Check out this 2019 Jeep Grand Cherokee Upland * * 2019 ** Jeep * * Grand Cherokee * This Bright White Clearcoat 2019 Jeep Grand Cherokee Upland might be just the SUV 4X4 for you. It comes with a 6 Cylinder engine. A suave bright white clearcoat exterior and a black interior are just what you need in your next ride. Call today and take this one out for a spin! Please Keep in mind... Nationwide shipping available, Just ask! We accept all offers and approve most, Mancari's of Oak Lawn guarantees the best prices in the Midwest! Appointments are highly recommended, Call us today @ 708-423-1700. Please keep in mind our inventory changes daily. Tax, title, license and doc fees extra. Price includes: $3,000 - 2019 Retail Consumer Cash **CK1 (excl GL-WE). Exp. 02/28/2019

VIN: 1C4RJFAG1KC594067

Stock #: 55049J-9

Explore Payment Options

Compare and Save Real-Time Bank Offers
Customize Your Monthly Payment
Get Instant Trade-In Estimate

* 6 Cylinder engine * * GREAT DEAL AT $33,855 * * Check out this 2019 Jeep Grand Cherokee Upland * * 2019 ** Jeep * * Grand Cherokee * This Bright Whi ...

[ more ]

Explore Payment Options

Compare and Save Real-Time Bank Offers
Customize Your Monthly Payment
Get Instant Trade-In Estimate

* 6 Cylinder engine * * GREAT DEAL AT $33,855 * * Check out this 2019 Jeep Grand Cherokee Upland * * 2019 ** Jeep * * Grand Cherokee * This Bright White Clearcoat 2019 Jeep Grand Cherokee Upland might be just the SUV 4X4 for you. It has a 6 Cylinder engine. It has a suave bright white clearcoat exterior and a black interior. Come see us today and see this one in person! Please Keep in mind... Nationwide shipping available, Just ask! We accept all offers and approve most, Mancari's of Oak Lawn guarantees the best prices in the Midwest! Appointments are highly recommended, Call us today @ 708-423-1700. Please keep in mind our inventory changes daily. Tax, title, license and doc fees extra. Price includes: $3,000 - 2019 Retail Consumer Cash **CK1 (excl GL-WE). Exp. 02/28/2019

VIN: 1C4RJFAG7KC594056

Stock #: 55119J-9

Explore Payment Options

Compare and Save Real-Time Bank Offers
Customize Your Monthly Payment
Get Instant Trade-In Estimate

* 6 Cylinder engine * * GREAT DEAL AT $34,969 * * Check out this 2019 Jeep Grand Cherokee Upland * * 2019 ** Jeep * * Grand Cherokee * This Bright Whi ...

[ more ]

Explore Payment Options

Compare and Save Real-Time Bank Offers
Customize Your Monthly Payment
Get Instant Trade-In Estimate

* 6 Cylinder engine * * GREAT DEAL AT $34,969 * * Check out this 2019 Jeep Grand Cherokee Upland * * 2019 ** Jeep * * Grand Cherokee * This Bright White Clearcoat 2019 Jeep Grand Cherokee Upland might be just the SUV 4X4 for you. It comes with a 6 Cylinder engine. For a good-looking vehicle from the inside out, this car features a sharp bright white clearcoat exterior along with a black interior. Don't wait until it is too late! Call today to schedule an appointment. Please Keep in mind... Nationwide shipping available, Just ask! We accept all offers and approve most, Mancari's of Oak Lawn guarantees the best prices in the Midwest! Appointments are highly recommended, Call us today @ 708-423-1700. Please keep in mind our inventory changes daily. Tax, title, license and doc fees extra. Price includes: $3,000 - 2019 Retail Consumer Cash **CK1 (excl GL-WE). Exp. 02/28/2019

VIN: 1C4RJFAGXKC544798

Stock #: 55047J-9

Explore Payment Options

Compare and Save Real-Time Bank Offers
Customize Your Monthly Payment
Get Instant Trade-In Estimate

* 6 Cylinder engine * * GREAT DEAL AT $34,969 * * Check out this 2019 Jeep Grand Cherokee Upland * * 2019 ** Jeep * * Grand Cherokee * This Diamond Bl ...

[ more ]

Explore Payment Options

Compare and Save Real-Time Bank Offers
Customize Your Monthly Payment
Get Instant Trade-In Estimate

* 6 Cylinder engine * * GREAT DEAL AT $34,969 * * Check out this 2019 Jeep Grand Cherokee Upland * * 2019 ** Jeep * * Grand Cherokee * This Diamond Black 2019 Jeep Grand Cherokee Upland might be just the SUV 4X4 for you. It comes with a 6 Cylinder engine. A gorgeous diamond black exterior and a black interior are just what you need in your next ride. Call or visit to talk with one of our vehicle specialists today! Please Keep in mind... Nationwide shipping available, Just ask! We accept all offers and approve most, Mancari's of Oak Lawn guarantees the best prices in the Midwest! Appointments are highly recommended, Call us today @ 708-423-1700. Please keep in mind our inventory changes daily. Tax, title, license and doc fees extra. Price includes: $3,000 - 2019 Retail Consumer Cash **CK1 (excl GL-WE). Exp. 02/28/2019

VIN: 1C4RJFAG9KC594057

Stock #: 55120J-9

Explore Payment Options

Compare and Save Real-Time Bank Offers
Customize Your Monthly Payment
Get Instant Trade-In Estimate

* 6 Cylinder engine * * GREAT DEAL AT $34,969 * * Check out this 2019 Jeep Grand Cherokee Upland * * 2019 ** Jeep * * Grand Cherokee * This Bright Whi ...

[ more ]

Explore Payment Options

Compare and Save Real-Time Bank Offers
Customize Your Monthly Payment
Get Instant Trade-In Estimate

* 6 Cylinder engine * * GREAT DEAL AT $34,969 * * Check out this 2019 Jeep Grand Cherokee Upland * * 2019 ** Jeep * * Grand Cherokee * This Bright White Clearcoat 2019 Jeep Grand Cherokee Upland might be just the SUV 4X4 for you. It comes with a 6 Cylinder engine. A stunning bright white clearcoat exterior and a black interior are just what you need in your next ride. Call today and take this one out for a spin! Please Keep in mind... Nationwide shipping available, Just ask! We accept all offers and approve most, Mancari's of Oak Lawn guarantees the best prices in the Midwest! Appointments are highly recommended, Call us today @ 708-423-1700. Please keep in mind our inventory changes daily. Tax, title, license and doc fees extra. Price includes: $3,000 - 2019 Retail Consumer Cash **CK1 (excl GL-WE). Exp. 02/28/2019

VIN: 1C4RJFAG9KC594060

Stock #: 55123J-9

Explore Payment Options

Compare and Save Real-Time Bank Offers
Customize Your Monthly Payment
Get Instant Trade-In Estimate

* 6 Cylinder engine * * GREAT DEAL AT $34,969 * * Check out this 2019 Jeep Grand Cherokee Upland * * 2019 ** Jeep * * Grand Cherokee * This Bright Whi ...

[ more ]

Explore Payment Options

Compare and Save Real-Time Bank Offers
Customize Your Monthly Payment
Get Instant Trade-In Estimate

* 6 Cylinder engine * * GREAT DEAL AT $34,969 * * Check out this 2019 Jeep Grand Cherokee Upland * * 2019 ** Jeep * * Grand Cherokee * This Bright White Clearcoat 2019 Jeep Grand Cherokee Upland might be just the SUV 4X4 for you. It has a 6 Cylinder engine. It has a sleek bright white clearcoat exterior and a black interior. This is the vehicle for you! Give us a call today and don't let it slip away! Please Keep in mind... Nationwide shipping available, Just ask! We accept all offers and approve most, Mancari's of Oak Lawn guarantees the best prices in the Midwest! Appointments are highly recommended, Call us today @ 708-423-1700. Please keep in mind our inventory changes daily. Tax, title, license and doc fees extra. Price includes: $3,000 - 2019 Retail Consumer Cash **CK1 (excl GL-WE). Exp. 02/28/2019

VIN: 1C4RJFAG8KC594065

Stock #: 55128J-9

Explore Payment Options

Compare and Save Real-Time Bank Offers
Customize Your Monthly Payment
Get Instant Trade-In Estimate

* 6 Cylinder engine * * GREAT DEAL AT $34,969 * * Check out this 2019 Jeep Grand Cherokee Upland * * 2019 ** Jeep * * Grand Cherokee * This Diamond Bl ...

[ more ]

Explore Payment Options

Compare and Save Real-Time Bank Offers
Customize Your Monthly Payment
Get Instant Trade-In Estimate

* 6 Cylinder engine * * GREAT DEAL AT $34,969 * * Check out this 2019 Jeep Grand Cherokee Upland * * 2019 ** Jeep * * Grand Cherokee * This Diamond Black 2019 Jeep Grand Cherokee Upland might be just the SUV 4X4 for you. It comes with a 6 Cylinder engine. A sharp diamond black exterior and a black interior are just what you need in your next ride. This is the vehicle you have been waiting for! Call now to schedule a test drive! Please Keep in mind... Nationwide shipping available, Just ask! We accept all offers and approve most, Mancari's of Oak Lawn guarantees the best prices in the Midwest! Appointments are highly recommended, Call us today @ 708-423-1700. Please keep in mind our inventory changes daily. Tax, title, license and doc fees extra. Price includes: $3,000 - 2019 Retail Consumer Cash **CK1 (excl GL-WE). Exp. 02/28/2019

VIN: 1C4RJFAG4KC594063

Stock #: 55126J-9

Explore Payment Options

Compare and Save Real-Time Bank Offers
Customize Your Monthly Payment
Get Instant Trade-In Estimate

* 6 Cylinder engine * * GREAT DEAL AT $34,969 * * Check out this 2019 Jeep Grand Cherokee Upland * * 2019 ** Jeep * * Grand Cherokee * This Diamond Bl ...

[ more ]

Explore Payment Options

Compare and Save Real-Time Bank Offers
Customize Your Monthly Payment
Get Instant Trade-In Estimate

* 6 Cylinder engine * * GREAT DEAL AT $34,969 * * Check out this 2019 Jeep Grand Cherokee Upland * * 2019 ** Jeep * * Grand Cherokee * This Diamond Black 2019 Jeep Grand Cherokee Upland might be just the SUV 4X4 for you. It has a 6 Cylinder engine. For a good-looking vehicle from the inside out, this car features a stunning diamond black exterior along with a black interior. Make your move before it's too late schedule a test drive today! Please Keep in mind... Nationwide shipping available, Just ask! We accept all offers and approve most, Mancari's of Oak Lawn guarantees the best prices in the Midwest! Appointments are highly recommended, Call us today @ 708-423-1700. Please keep in mind our inventory changes daily. Tax, title, license and doc fees extra. Price includes: $3,000 - 2019 Retail Consumer Cash **CK1 (excl GL-WE). Exp. 02/28/2019

VIN: 1C4RJFAG0KC594058

Stock #: 55121J-9

Explore Payment Options

Compare and Save Real-Time Bank Offers
Customize Your Monthly Payment
Get Instant Trade-In Estimate

* 6 Cylinder engine * * GREAT DEAL AT $34,969 * * Check out this 2019 Jeep Grand Cherokee Upland * * 2019 ** Jeep * * Grand Cherokee * This Bright Whi ...

[ more ]

Explore Payment Options

Compare and Save Real-Time Bank Offers
Customize Your Monthly Payment
Get Instant Trade-In Estimate

* 6 Cylinder engine * * GREAT DEAL AT $34,969 * * Check out this 2019 Jeep Grand Cherokee Upland * * 2019 ** Jeep * * Grand Cherokee * This Bright White Clearcoat 2019 Jeep Grand Cherokee Upland might be just the SUV 4X4 for you. It comes with a 6 Cylinder engine. A charming bright white clearcoat exterior and a black interior are just what you need in your next ride. Don't wait on this one. Schedule a test drive today! Please Keep in mind... Nationwide shipping available, Just ask! We accept all offers and approve most, Mancari's of Oak Lawn guarantees the best prices in the Midwest! Appointments are highly recommended, Call us today @ 708-423-1700. Please keep in mind our inventory changes daily. Tax, title, license and doc fees extra. Price includes: $3,000 - 2019 Retail Consumer Cash **CK1 (excl GL-WE). Exp. 02/28/2019

VIN: 1C4RJFBG1KC537964

Stock #: 55024J-9

Explore Payment Options

Compare and Save Real-Time Bank Offers
Customize Your Monthly Payment
Get Instant Trade-In Estimate

* 6 Cylinder engine * * GREAT DEAL AT $35,996 * * Check out this 2019 Jeep Grand Cherokee Limited * * 2019 ** Jeep * * Grand Cherokee * This Velvet 20 ...

[ more ]

Explore Payment Options

Compare and Save Real-Time Bank Offers
Customize Your Monthly Payment
Get Instant Trade-In Estimate

* 6 Cylinder engine * * GREAT DEAL AT $35,996 * * Check out this 2019 Jeep Grand Cherokee Limited * * 2019 ** Jeep * * Grand Cherokee * This Velvet 2019 Jeep Grand Cherokee Limited might be just the SUV 4X4 for you. It has a 6 Cylinder engine. For a good-looking vehicle from the inside out, this car features a gorgeous velvet exterior along with a black interior. Interested? Call today and schedule a test drive! Please Keep in mind... Nationwide shipping available, Just ask! We accept all offers and approve most, Mancari's of Oak Lawn guarantees the best prices in the Midwest! Appointments are highly recommended, Call us today @ 708-423-1700. Please keep in mind our inventory changes daily. Tax, title, license and doc fees extra. Price includes: $3,000 - 2019 Retail Consumer Cash **CK1 (excl GL-WE). Exp. 02/28/2019, $1,000 - Midwest BC Regional Bonus Cash MWCKP. Exp. 02/28/2019

VIN: 1C4RJFBG8KC537976

Stock #: 55025J-9

Explore Payment Options

Compare and Save Real-Time Bank Offers
Customize Your Monthly Payment
Get Instant Trade-In Estimate

* 6 Cylinder engine * * GREAT DEAL AT $35,996 * * Check out this 2019 Jeep Grand Cherokee Limited * * 2019 ** Jeep * * Grand Cherokee * This Velvet 20 ...

[ more ]

Explore Payment Options

Compare and Save Real-Time Bank Offers
Customize Your Monthly Payment
Get Instant Trade-In Estimate

* 6 Cylinder engine * * GREAT DEAL AT $35,996 * * Check out this 2019 Jeep Grand Cherokee Limited * * 2019 ** Jeep * * Grand Cherokee * This Velvet 2019 Jeep Grand Cherokee Limited might be just the SUV 4X4 for you. It comes with a 6 Cylinder engine. For a good-looking vehicle from the inside out, this car features a suave velvet exterior along with a black interior. Call or visit to talk with one of our vehicle specialists today! Please Keep in mind... Nationwide shipping available, Just ask! We accept all offers and approve most, Mancari's of Oak Lawn guarantees the best prices in the Midwest! Appointments are highly recommended, Call us today @ 708-423-1700. Please keep in mind our inventory changes daily. Tax, title, license and doc fees extra. Price includes: $3,000 - 2019 Retail Consumer Cash **CK1 (excl GL-WE). Exp. 02/28/2019, $1,000 - Midwest BC Regional Bonus Cash MWCKP. Exp. 02/28/2019

VIN: 1C4RJFBGXKC537977

Stock #: 55026J-9

Explore Payment Options

Compare and Save Real-Time Bank Offers
Customize Your Monthly Payment
Get Instant Trade-In Estimate

* 6 Cylinder engine * * GREAT DEAL AT $35,996 * * Check out this 2019 Jeep Grand Cherokee Limited * * 2019 ** Jeep * * Grand Cherokee * This Velvet 20 ...

[ more ]

Explore Payment Options

Compare and Save Real-Time Bank Offers
Customize Your Monthly Payment
Get Instant Trade-In Estimate

* 6 Cylinder engine * * GREAT DEAL AT $35,996 * * Check out this 2019 Jeep Grand Cherokee Limited * * 2019 ** Jeep * * Grand Cherokee * This Velvet 2019 Jeep Grand Cherokee Limited might be just the SUV 4X4 for you. It comes with a 6 Cylinder engine. It has a beautiful velvet exterior and a black interior. Don't wait until it is too late! Call today to schedule an appointment. Please Keep in mind... Nationwide shipping available, Just ask! We accept all offers and approve most, Mancari's of Oak Lawn guarantees the best prices in the Midwest! Appointments are highly recommended, Call us today @ 708-423-1700. Please keep in mind our inventory changes daily. Tax, title, license and doc fees extra. Price includes: $3,000 - 2019 Retail Consumer Cash **CK1 (excl GL-WE). Exp. 02/28/2019, $1,000 - Midwest BC Regional Bonus Cash MWCKP. Exp. 02/28/2019

VIN: 1C4RJFBG9KC537971

Stock #: 55031J-9

Explore Payment Options

Compare and Save Real-Time Bank Offers
Customize Your Monthly Payment
Get Instant Trade-In Estimate

* 6 Cylinder engine * * GREAT DEAL AT $36,118 * * Check out this 2019 Jeep Grand Cherokee Limited * * 2019 ** Jeep * * Grand Cherokee * This Diamond B ...

[ more ]